How to Stop a Foreclosure
in less than 7 days

- getting your life right back on track with one small decision?
Stopping foreclosure is not as difficult as you may think. By using just one of these well known techniques, you may NOT need help with foreclosure.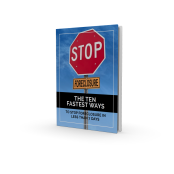 Get Instant Access
To get your FREE copy of "The 10 Fastest Ways to STOP Foreclosure in Less Than 7 Days," simply tell us where to send it.
How to Stop A Foreclosure
We use techniques that millions of Americans have used to STOP Foreclosure. We can help EVEN if you owe MORE than your home is worth.
With some recent US government changes you may or may not choose to get a foreclosure loan. Give us a call today to go over the foreclosure options you have. Or, download our free eBook.
We can help you get your life back. Recent US Government regulations have made it easier than ever to STOP Foreclosure. We provide foreclosure assistance and loan modification help.
We Are A Real Estate Solutions Company
Right now in Omaha, according to Zillow, there are 324 houses in some state of foreclosure. How many months behind on mortgage before foreclosure? If you are 30 days late on mortgage, 60 days late on mortgage, or 90 days behind in mortgage payments, you are in default and your lender can take legal action by filing a notice of default. How to stop a foreclosure? Don't fall behind on your payments.

Put your name and email in above to download our short free eBook titled "The 10 Fastest Ways To Stop Foreclosure In Less Than 7 Days."

When you purchased your home, you signed a security agreement. This security agreement gives the mortgage company the right to foreclose on your home if you default on the payment of your mortgage loan. The security agreement you signed was a mortgage or a deed of trust. Most home loans in Nebraska use a deed of trust.

Once you get a notice of default form, you have at least 75-95 days, and usually longer, before you receive a foreclosure notice of sale.
A notice of foreclosure letter didn't just suddenly appear like a box of kittens on your doorstep. Like blizzards, there are signs of approaching trouble, including:

having difficulty paying the mortgage payment on time

having very little savings for emergencies

using credit cards to get to the next payday

paying the minimum on your credit cards

neglecting doctor and dental visits

shrinking from the ring of the phone

change in employment or change in debt to income ratio

If you see your family in this list, you may be facing possible foreclosure. You need to know how to prevent foreclosure.

My free eBook titled "The 10 Fastest Ways To Stop Foreclosure In Less Than 7 Days." can help you with this process. Don't wait, do it now! These banks move quickly.


There is home foreclosure help available. Put your name and email in above to download our short free eBook titled "The 10 Fastest Ways To Stop Foreclosure In Less Than 7 Days."

For mortgage foreclosure help Contact your lender and level with them. They may be nervous by the extent of your problem, but they have seen this before and will demand you take steps to fix it. That may require you selling your toys and making major cuts in your spending.
Don't ignore your mail. Many have been in your shoes. The first thing many did when the mail came was throw the bills in a drawer. Those first envelopes will contain helpful suggestions to get things under control. Then will come legal action. Ignoring those notices can cause you to lose everything.
Contact Professionals – Your banker does not want to own your house. When you come clean about your financial situation, he may be able to modify the loan, offer forbearance or give you repayment options.

Loan modification could include a reduction of the interest rate, convert from a variable interest rate to a fixed interest rate, or extend the length of the term of the loan. A loan modification agreement is a permanent solution to unaffordable monthly payments.

A forbearance agreement provides short-term relief for borrowers. With a forbearance agreement, the lender agrees to reduce or suspend mortgage payments for a certain period of time and not to initiate a foreclosure during the forbearance period.

Pre-payment options could include a plan to repay missed payments in addition to making monthly payments, especially if there is a temporary hardship.

Contact a credit counselor. The objective of most credit counseling is to help the creditor avoid bankruptcy, as well as provide basic education on financial management. Many counseling services also negotiate with creditors on behalf of the borrower to reduce interest rates and late fees.
Contact a bankruptcy attorney. That sounds contrary to taking responsibility, but you need to know your options so you can make informed decisions.
Contact a professional real estate investor. You may want to sell your home fast to get out of the problem or to save your credit rating. Styl Properties is here to help homeowners out of any kind of distressed situation. As investors, we can help homeowners out of just about any situation, no matter what! There are no fees, up-front costs, commissions, or anything else. Just the simple honest truth about your home and how we can help you sell it fast to resolve any situation.

In summary, recognize approaching trouble, contact your lender, and seek professional help.

Suppose you are no longer in pre-foreclosure, but have been served a notice of default and soon you are likely to receive a notice of sale. How to save my home from foreclosure is your last thought. All the stress of your predicament has hit home. You are suddenly aware you are about to lose your home. How to stop a foreclosure?

According to Legal Aid of Nebraska, "Filing a bankruptcy or a lawsuit could stop a foreclosure sale. Talk to a lawyer about your situation to see what is best for you.

The most common way to stop home foreclosure is to refinance delinquent mortgage or modify your mortgage loan to make it more affordable. There are government programs that help people make their mortgage loan more affordable. In fact Fannie Mae and Freddie Mac have a new program effective in October 2017 called Flex Modification for eligible borrowers who are at least 60 days delinquent. The program expects to provide a 20 percent payment reduction which could save my home from foreclosure.

One reason you need help to save your home from foreclosure. At a foreclosure sale, your home may sell for less than what you owe on the mortgage. The difference between the amount of the mortgage and the amount recovered from the sale of your home is called a deficiency. The mortgage lender can sue you and get a judgment for the amount of the deficiency. The lender has three months to file a lawsuit for a mortgage deficiency from the foreclosure of a home under a deed of trust. If the lender gets a judgment against you they can garnish your wages or your bank account.

We have a short eBook available "The 10 Fastest Ways To Stop Foreclosure In Less Than 7 Days."

In the second chapter, we discuss forbearance plans. Forbearance is a formal, written agreement between you and the bank that reduces or suspends monthly payments for a specified period of time. This means that, for a period of time, you would either pay only a portion of your regular mortgage payment or may not have to make payments at all.

For more information on how a forbearance plan works, refer back to chapter 2 of this report.

We also want to remind you that we can help. Our team of active real estate investors is currently buying properties in this area and we are ready to make an all cash, fair market offer and close quickly.

If there's anything we can do to assist you, or if you simply want to talk with us about your options, please don't hesitate to call our office at: 402.999.0577.